The perfect wine road trip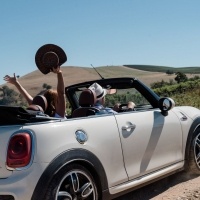 The characters of the King Valley share what they love about road tripping and this special region..
"Coffee and wine are essential"
- Christian Dal Zotto, Dal Zotto Wines
You have to plan your stops to ensure everyone's happy on a road trip. You want good coffee, nice food and a couple of cheeky vinos along the way (for the passengers). Can you tell I'm Italian?
Because my wife and I have a little girl, we love a kid-friendly venue – well, kid-friendly without being over the top; we want to feel like we're welcome with our daughter while we have a drink.
One of our favourite road trips is visiting family in Melbourne: we drive the winding road through Mansfield, and we know that we're well-looked after with Mansfield Coffee Merchant at one end and King Valley Prosecco Road at the other.
"Take fun people and a great playlist"
- Katherine Brown, Brown Brothers
It's really fun to get a group of friends together and make it a girls' road trip. You're all in the car and chatting with excitement; you know where you're going but you're wondering what it'll be like.
What makes a great wine region road trip:
Get someone else to drive!
Take a car with a large boot, so you can bring home all the great wine and produce you find.
Make sure you have time to stop when you see those signs for fresh eggs or fresh pumpkins, put a couple of dollars in the little box and then keep going again.
Plan an experience to excitedly anticipate, like a wine blending experience at Brown Brothers, where you create your very own wine the ultimate road trip souvenir.
You definitely need sing-along music; I've got a wine-themed playlist that features a bit of 'Red, red wine'.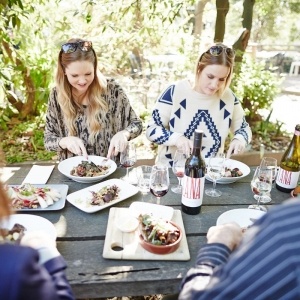 "Accommodation is part of the experience"
- Katrina Pizzini, Pizzini Wines and Vineyard Guesthouse
I'll often book the accommodation before anything else, because I want to make sure the relaxed, comfortable places I like are available.
It's so nice to be able to step out of your car at a place that has a wow factor – it could be mountains around you or a nice garden area – and a quiet outside space to sit comfortably, with a feeling of privacy.
My favourite part of staying somewhere is to have a little treat, like a homemade muffin or biscuits as I relax. I remember a place by the treat that I get to have with my cup of tea.
"The best sights are off the highways"
- Peter Evans, Symphonia Wines
My best tip is to take a shortcut into a wine region, along the smaller roads.
The highway is boring, so get off it as soon as you can. If you're driving into the King Valley, you'll find magnificent scenery, really great cellar doors and you can meet the famous Italian winemakers of the region – and the sooner you get onto the smaller roads, the sooner you'll see all of that.
Our winery is located off the beaten track, so we're pretty sure that once you take those quiet, winding roads, you'll find some great hidden gems.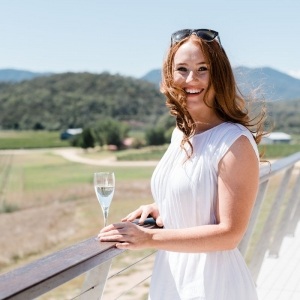 "Nothing beats a good country pub"
Glen Merkel, Merkel Wines and Moyhu Hotel
There's nothing like a great Sunday pub lunch – and a great pub menu has a bit of personality about it.
I want to know that the chef has thought about what is fresh and flavoursome, that they know their producers, and have a connection to the land. I love to see all that expressed on the plate.
If you want to find a great pub, do a little bit of research to make sure you're not disappointed. You could look at the feedback and ratings on TripAdvisor, or ask people you know for a recommendation.
My favourite dishes on our menu at the Moyhu Hotel are the slow-cooked pork belly with apple and coriander salad, duck confit spring rolls, and the T-Bone steak is pretty exciting too.
Food like that really sets you up for a great day.
"Find a little connection with the local community"
- Sonia Politini, Politini Wines
The best thing about a road trip is the locals you meet.
When people are really approachable and friendly, and will stop to have a chat, you feel very welcome. It's that connection that makes it so special to have an experience in another little part of the world.
Those moments always remind me of road tripping through Tuscany: you'd come across a beautiful restaurant and sit down and talk to the owner, who had made the pasta or made the pesto from basil picked from the backyard. You feel really privileged be a part of that.
And when I'm driving through the King Valley, I see beautiful home-grown produce, and the people I knew as a kid, and it's great to be reconnecting with them and seeing people enjoy and embrace life.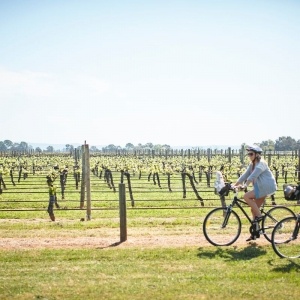 "Mia casa é sua casa"
- Jo Pizzini, Chrismont Wines
When I stop at a restaurant on a road trip, I look for that welcoming factor: when someone opens the doors, seats you and makes you feel at home.
I like food to be flavorsome and hearty. I want to experience different flavours and textures, get to know the history and culture of that dish, and match it with some beautiful wines.
At Chrismont, our menu is all about simplicity, flavour and real food. We greet people the way we'd like to be greeted, and extend our warm hospitality.
It's not just about the food; it's nourishment for the body and soul.
"Slow down to find the natural beauty"
- John Darling, Darling Estate
A great road trip is made up of finding the natural beauty in each place you go.
We've just done a road trip (all around New South Wales), and we chose our stops for their natural beauty. We went for a lot of walks, enjoyed the beaches, rode bikes, went swimming whenever possible, and took short drives to find what was great about each of our destinations.
In the King Valley, I've found a few secret swimming holes along the King River that are secluded, not known by any but a few. The thing about the valley is that almost everywhere you look there's a spectacular view, and there's a peaceful feel to it.
Slow down and give yourself the time to find and enjoy that peacefulness; you can't rush through life.