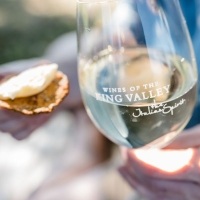 Here in the King Valley, we make a bellissimo Pinot Grigio
Wondering about the difference between Pinot Grigio and Pinot Gris? Both are made from the same grape, with different winemaking styles from two wine-loving cultures: Gris is French, while Grigio is Italian and very popular in the King Valley..
Peter Corsini, grape-grower at La Cantina King Valley
The King Valley's cool climate helps Pinot Grigio grapes to maintain their natural acids right up until harvest.
It's a variety that needs good airflow through the canopy; we manage the crop carefully so that small bunches don't sit on top of each other.The trickiest thing about growing Pinot Grigio? It ripens very quickly. We carefully monitor the sugar and acid levels and, when they're both right, we pick the grapes within a week.
It's important to get the timing right because that beautiful crispness of Pinot Grigio comes from really good acid levels. If we can get a good, well-balanced fruit at the right time, the wine speaks for itself.
Sam Miranda, winemaker at Sam Miranda King Valley
Grigio means 'grey' in Italian (and Gris is 'grey' in French); the grape itself has a grey skin. We want to get it off skins quickly to reduce the uptake of colour; the longer the skins stay on, the heavier the flavours are – and in the King Valley, we prefer a lighter, crisper style. Ideally it's handpicked, taken into the winery and pressed out in the smallest possible time.
It goes through a nice cold ferment, a little bit of lees contact to add some mouthfeel, and into the bottle within six months. It's best drunk two or three years out from vintage.
The style lends itself to easy drinking, and it's very moreish. It's my wife's favourite tipple, so we have a bottle of Pinot Grigio at our table every night.
Katrina Pizzini, Pizzini Wines & A Tavola! Cooking School
Pinot Grigio is a really versatile wine that goes with many foods, and I love it with fish and chips; you're eating with your fingers, chatting with friends and having a glass of wine to wash it down.
But you don't need food to enjoy a Pinot Grigio. It coats the whole palate, not leaving any holes there that need to be filled with food flavours..
It's really the perfect wine for sitting back, sipping and enjoying at the end of a long day at work.