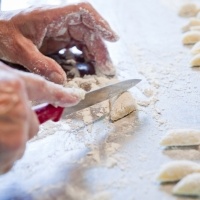 'I'd love to say I'm here to improve my wine knowledge, but really, I just want to over-indulge in good food, and spend lazy mornings in bed and afternoons drinking prosecco, that celebratory Italian sparkling wine known for la dolce vita– the sweet life.'
By Kerry van de Jagt for www.traveller.com.au
Here in the King Valley, home to an Italian community of prosecco pioneers, life is very sweet. Following the Second World War the new arrivals, who found the region reminisce of northern Italy, started growing grapes among the eucalypt-clad mountain ranges. They soon added prosciutto, pasta, sausage and salami to the regional cuisine, along with their passion for simple, seasonal produce and their love of sharing food with family and friends.
Free time is perhaps the sweetest indulgence of all, so on this trip we've allowed four days to travel just 50 kilometres (you could do it in under an hour) tootling along "Prosecco Road", a country trail that wends its way beside the King River from Cheshunt to Milawa. Unlike other sprawling wine regions "Prosecco Road" is comprised of just five wineries – Brown Brothers, Sam Miranda, Dal Zotto, Pizzini and Chrismont – that have banded together to produce a food and wine trail celebrating the Italian way of life.
To take the slow food ideology further we are travelling by motorhome, an Apollo "Euro slider" with an expanding mid-section that glides out at the press of a button extending the living and sleeping quarters, the first of its kind on the Australian rental market. While it comfortably sleeps four we find it perfect for a couple with a long list of standard inclusions – private bedroom, separate toilet and shower, TV, iPod docking station, air-conditioning, linen, pillows and towels – elevating the experience to a near-luxury level.