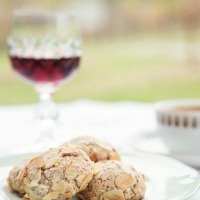 Josie Politini is one of the King Valley's culinary treasures, cooking and sharing food that is true to her Sicilian roots.
Josie (Giuseppina) is the matriarch of the Politini family, who have been growing grapes and making wine in the King Valley for more than 25 years.
Arriving in Australia from the small Sicilian town of Ramacca at the age of seven, Josie learnt the recipes that her family now enjoys standing side-by-side her mother in the kitchen. 'My mother taught me to make arancini and cannoli,' says Josie. 'But cooking for my own family made me the cook that I am.'
'She has a knack for putting ingredients together and making the flavours sing,' says her daughter Bianca. 'Hers are simple recipes using fresh ingredients, and she cooks from what happens to be growing in her garden – in summer there will be stu ed zucchini flowers, tomatoes, artichokes, snow peas... She uses a lot of herbs for flavour – basil, parsley and rosemary are favourites, as well as a lot of tomatoes and garlic, which is very Sicilian.'
Such is her talent for cooking that she now offers a handful
of lucky people the chance to learn from her, with workshops o ered at Politini every winter. These began after Josie and her husband Sam started making salamis: 'Customers came to the cellar door and they would see the salamis, and ask about how to make them themselves,' says Bianca. 'And Mum being Mum, she would show them how to make them and then end up cooking everyone lunch.'
'A lot of people were really interested in the food she cooked and so we wanted to incorporate some of her recipes with the salami making,' says Bianca. In the hands-on classes, Josie demonstrates a classic pork rib sugo – it's a really nice dish to have on a winter's day,' she says – using the bones leftover from the salami making. There is also eggplant caponata, polpette and polenta – 'the polenta is not Sicilian, but it goes so well with the sugo,' she adds – and the classes finish with homemade cannoli and biscotti.
'They often go until late in the afternoon, as everyone sits down, has a few glasses of wine, and some food. They're like a lunch party, but where people make new friends – they often exchange numbers at the end of a class,' says Bianca, who is the organisational force behind the classes, including sourcing the ingredients, using as much local produce as possible.
It's a long day for 74-year-old Josie, but she shows no sign of slowing down. 'She's not the sort of person who can just sit down, she has to be active,' laughs Bianca.
BISCOTTI DI MANDORLA (NONNA JOSIE'S ALMOND BISCUITS)
Makes about 24
4 egg whites
150g caster sugar
15ml almond essence
350g almond meal (with skin left on) 130g flaked almonds
Preheat oven to 180oC.
Line a large baking dish with baking paper.
In a scrupulously clean bowl, whisk the egg whites using
a handheld mixer or in a stand mixer until thick and flu y. Gradually add the sugar, whisking continuously, until it is sti and glossy.
Using a metal spoon, gently fold in the almond essence and almond meal.
Place the flaked almonds in a separate bowl.
Roll a tablespoon of the mixture into a rough ball, then roll the ball in the flaked almonds to coat. Place on the prepared baking tray and bake for 12-15 minutes, or until lightly browned.
Set aside to cool.
Once cooled store, in an airtight container for up to a week. The biscotti can also be frozen.