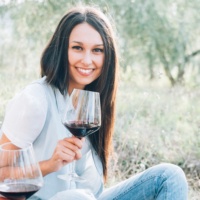 Sangiovese is the quintessential King Valley red wine.
With its characteristic savoury flavours of dark cherry and spices, fine tannins and cleansing acidity, sangiovese (pronounced san-jo-vay-zee) is best served with hearty food and conversation. And that's just the way we like it.
Marco Martinelli, award-winning grower
Sangiovese needs more attention than other grape varieties. It starts with the soil: in Tuscany there's less acidic soil, so we compensate for that by adding a lot of dolomite lime.
I'm at the cool end of the King Valley, so I have to leaf-pluck the vines so the fruit gets the morning sun to ripen. We plant closer together nowadays so there's less fruit per vine, which means it'll ripen earlier and the avours will be more intense.
Sangiovese grows so well in the King Valley because of the Italian passion. My grandfather grew it in Tuscany in the 1920s, so sangiovese means a lot to me.
Warren Proft, winemaker at Chrismont
Everyone has their own approach to making sangiovese. At Chrismont, we like a structured wine that's tannic and bold, and we know we've had a successful sangiovese vintage when it hits these winemaking goals.
There's a science to making sangiovese, which is the structure behind it, but the result is very much artistic. You have the choice in what you want to blend and in how you want that wine to present itself, and you're trying to achieve that savoury texture. That's the creative aspect of it.
We have some herbal, spicy notes in our current sangiovese vintage and our customers will enjoy that experience in the wine.
Michael Dal Zotto, winemaker at Dal Zotto Wines
Every part of the winemaking process contributes to the wine in a different way. With sangiovese, we ferment it on skins to help soften out the tannins, and then we age it in barrel for about 12 months (unlike our white wines, which are in stainless steel). The oak adds depth and helps build a wine with more structure and complexity.
At Dal Zotto, we want our sangiovese to have beautiful, traditional, drier tannins, depth, balance, nice acidity and a bit of cherry character. This is what sets it apart from the other red wines we make.
Katrina Pizzini, Pizzini Wines & A Tavola! Cooking School
Sangiovese's lightness and savoury avours makes it really food- friendly. It doesn't stimulate the whole palate like a shiraz; it's a more gentle wine that needs food to complete the avour spectrum.
The classic food pairing is pizza or pasta with Napolitana sauce. In pizza cafés in Italy, they give you a carafe of Chianti (sangiovese from the Chianti region) to have with your pizza and it's perfect.
I love to serve sangiovese with a lamb shoulder braised in stock and herbs for a few hours, and then you tear away the meat and eat it with pasta or polenta. The fruit and avours of sangiovese go perfectly with a hearty meal.