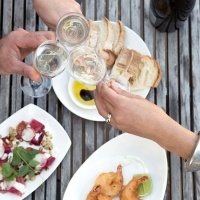 King Valley Prosecco is bubbling to the top.
Pioneered in Australia by the winemaking families of the king valley, prosecco is a delicious sparkling wine that hails from the Veneto in northeast Italy. It's a delightful, affordable drink that's riding high on a deserved wave of popularity.
Michael Dal Zotto, winemaker
We've been making Prosecco in the King Valley since 2004 [Dal Zotto Wines brought the rst Prosecco cuttings to Australia nearly 20 years ago]. The warm days and the cool evenings here help to preserve the acidity and drive the aromatics in the wine. I love its freshness and its versatility. We make a non-vintage style, which is very approachable and lower in alcohol than a lot of other sparkling wines, and then we also have a vintage style, which is fermented in the bottle, and has a more savoury, ginger-beer character. Our favourite occasion to drink Prosecco? Well, we have a saying: 'Prosecco – you don't need a reason!'
Johnny Cavedon, grape grower
Our vineyard is at 400m altitude, with north-south-facing rows. They get the early morning easterly sun, and are protected from the hot afternoon westerly sun, which suits cool-climate grapes perfectly. The cool climate, which comes from the altitude, is a major factor in the success of Prosecco in the King Valley. That and the Italian heritage of the area: the people here know how to grow it. The grape seems to suit the area really well, other than correct pruning and some canopy management, it seems to look after itself.
Michael White, chef
Prosecco goes well with a lot of food – it's fresh and bright and, unlike Champagne, doesn't have a lot of secondary flavours that might fight with the flavours of the food. One of our dishes at Sam Miranda is a local rainbow trout with a pistachio crust, served with honeyed fennel. The acidity of the Prosecco cuts through the richness of the trout and the flavours are a beautiful match. We also make a Prosecco batter for a prawn dish – it's light, crunchy and delicious!