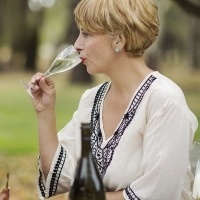 Prosecco is renowned in Italy as the drink for every occasion – fresh, uncomplicated, even joyful sparkling wine. In my circle of friends, it is called upon when we have had a win at work, or a more challenging day with the children. It is equally suited to poached eggs and smoked trout at brunch as it is to prosciutto and provolone before dinner. So, the opportunity of a three day getaway filled with Prosecco in Victoria's beautiful King Valley seems like a perfectly sound proposition to me.
King Valley, in Victoria's High Country, 3 hours north-east of Melbourne, is renowned as Australia's home of Italian style wines. The region has been influenced by Italian migrant farmers who came to grow tobacco here, originally. As the farmers longed for the tastes of their homeland, crops of dolcetto, barbera, sangiovese, nebbiolo and vermentino started appearing against the eucalypt-clad alpine ranges. The food and wine culture of Italy found a fertile spot in King Valley, and brought together a community of winemaking families in the region.
In 1999, Otto Dal Zotto, already an established winemaker of Italian style wines in the region, set upon his dream of making Prosecco, the wine of his hometown Valdobbiadene. It must have seemed ambitious, maybe even perilous – at that time there were no Prosecco vines in the country. They would need to be sourced, approved, cultivated carefully – there were no guarantees of success, no other Prosecco producers in the country to consult with. Otto, with the support of his sons Michael and Christian, was upon the path to pioneer a new wine style for the region.
I meet the man over lunch at the Dal Zotto family trattoria. Tall, charming and effusive, it does not surprise me that Otto Dal Zotto got exactly what his heart desired. He pours me a glass of Dal Zotto L'Immigrante Prosecco with pride and warm hospitality.
I've come to meet winemakers such as this, to explore the food and wine trail called King Valley Prosecco Road. Prosecco Road runs the length of King Valley, from the base of the Australian Alps at Cheshunt to the river plains at Milawa. It features five King Valley Prosecco producers – Chrismont, Pizzini, Dal Zotto, Sam Miranda and Brown Brothers – who each lay on a feast of experiences that complement the Prosecco way of life. www.kingvalleyproseccoroad.com.au
Lunch at the Dal Zotto trattoria is my first stop, after the easy and pretty drive into the valley. Chef Mark Manson presents handmade bread and soft cheeses, vegetables harvested from Elena's bountiful kitchen garden, and roasts and braises of local lamb and goat. The pizza is authentic, the pasta satisfying.  An extensive range of wines is available to match - have you ever tried a wine called Garganega? After lunch, we take our glasses out to the bocce court. We drink in the views of vineyards, mountains and Elena's orchard, and maybe a little more Prosecco.
A wide range of accommodation is available in the region www.visitkingvalley.com.au, from gourmet B&B's to characterful tobacco kilns converted into guesthouses. We check in, check out the facilities and plan the rest of our trip.
We've booked ahead for a class at Katrina Pizzini's A Tavola! Cooking School. Katrina is renowned as a wonderful cook, of both traditional Italian dishes and modern cuisine influenced by flavours of Australia and abroad. Classes might focus on pasta-making, cooking for blokes (winemaker Alfred Pizzini makes a cameo here) or antipasti, tapas and dumplings. The purpose-built commercial kitchen is impressive, but even more impressive is the generosity shown to us. Katrina patiently instructs, taking time to ensure I will be able to replicate this at home, and Alfred brings out a few very special back vintage wines to enjoy with our finished dishes. I shan't forget this experience.
At Brown Brothers I believe I have found the widest range of wines ever to be seen at one cellar door. It is positively expansive. Charming cellar door supervisor Ernie shows me through the range – dry, fruity, sweet; still, sparkling, and fortified; new release, limited release and cellar door only release. There are traditional cool climate wines and also a number of Italian varietals, including three styles of Prosecco. What is a Scottish family doing making all these Italian style wines, I ask Ernie? The story of collaboration between Brown Brothers and the Italian farmers of the area, dating back to the 1890's, is fascinating, and inspiring.
It's an easy bike ride from Brown Brothers to Sam Miranda, and once you get there you'll find Sam shares a few of the same passions – cycling, Prosecco, good food and a great chat. His cellar door is stunning, in a modernist style, naturally lit by an impressive lightwell that towers over the family vineyards. We take a Prosecco Tasting Platter of local smallgoods, cured seafood and Prosecco-battered prawns out onto the stone piazza. Chef Michael White delivers an impressive cut of beef for us to share, sourced from Sam's own grape-fed cattle. These guys take 'local' and 'seasonal' seriously, as only someone who has spent their life growing and making wine could.
The last stop on our King Valley Prosecco Road will be Chrismont. The newly opened cellar door, restaurant and larder crowns the upper reaches of the valley. Here, Jo and Arnie Pizzini welcome visitors to taste their elegant wines and experience the cuisine of their heritage, from both the North and South of Italy. House-cured olives, fresh ricotta and pickled peppers are followed by burnt-butter gnocchi and local spatchcock. Finally, authentic Italian cannoli are served on the balcony, overlooking the vineyards that sweep down the valley. Take a moment, sip Prosecco and plan your next King Valley getaway.
www.kingvalleyproseccoroad.com.au