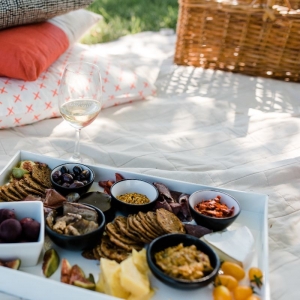 When the sun comes out to play, it's time to throw down a picnic rug and slow down. We asked three King Valley picnickers to share their best spots for winding down in the great outdoors.
Ceridwen Brown, Milawa Cheese
Being out in the beautiful King Valley is wonderful: sit back and have a couple of glasses of wine, eat some delicious cheese, hang out with your mates and enjoy your surrounds.
One of my favourite picnic spots is a tiny corner just off the road by the Key Garden Creek in Milawa, a really pretty little place.
The back lawn at Milawa Cheese is also a beautiful picnic spot, looking across the paddocks and up to the mountains.
Wherever you're headed, it's handy to have a stop at the cheese factory. You can grab a picnic pack (which includes Milawa Blue, King River Gold, Milawa Brie, David Brown Select Cheddar, grapes, biscuits, a bamboo plate and bamboo knives) and then you're set to go.
Arnie Pizzini, Chrismont Wines
Lake William Hovell is a standout picnic spot, with all the necessary facilities like electric barbecues and toilets. It's a very serene spot, and you can go swimming or boating or fishing in the lake.
Paradise Falls is a beauty, too. It's a great way for a road-tripping family to spend a couple of hours.
At Powers Lookout, there's a little hut with a barbecue and it's only a short walk to the spectacular lookout.
There are also various spots along the King River for picnicking, that you can see from the road as you drive through the King Valley.
John Flower, King River Estate
Right across the road from us is a public picnic area with tables and chairs, right on the banks of the King River. There are plenty of picnic spots along the river: the vista is amazing.
The Edi-Cheshunt bridge is right there as well, with a lovely little area to stop and eat at.
Edi Cutting is also a great place to picnic when it's not a busy camping weekend.

At King River Estate, we have a great lawn area for people to picnic on – just throw a picnic rug on the ground and grab a bottle of wine from us to complete the picture.