"Everything you see I owe to spaghetti" – so said Sophia Loren as she slurped her beloved pasta.
The slippery strands, combined with the fresh taste of the sea, and paired with a blushing pink wine – this is a truly sensuous way to share a meal with the one you love.
Spaghetti with prawns and haloumi
Serves 4
320g spaghetti
100g butter, cubed
30g olive oil
1/2 cup Sam Miranda Chardonnay
16 tiger prawns
100g haloumi, cubed
10g preserved lemon, diced
40g tomato, finely diced
Handful of rocket
2 chillies, chopped
Pinch of Murray River pink salt flakes
Pinch of ground pepper
Fresh parsley, to garnish
Cook pasta in boiling water until al dente.
Heat a pan on medium heat, add one-quarter of the butter and melt, then add olive oil. Add haloumi to the pan, and remove once crispy.
Add remaining butter and prawns. Once seared, add Sam Miranda Chardonnay along with preserved lemon and tomato. Sprinkle with fresh chillies, salt flakes and pepper, and heat through.
Add haloumi and cooked pasta to the pan.
Take off the heat and toss rocket through the mixture.
Plate and garnish with parsley.
Perfect Match
This simple, flavour-filled dish is best paired with Sam Miranda's newly released Prosato.
Prosato is a refreshing blend of King Valley-grown Prosecco and Rosato.
This savoury wine complements the freshness of the prawns and brings out the delicious hint of preserved lemon within the dish.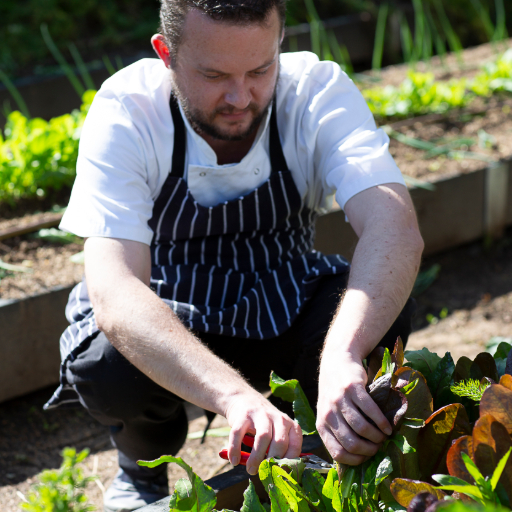 Field to fork
Where: Sam Miranda King Valley
Food that travels metres, not miles: that's the motto behind Sam Miranda's produce garden. Inspired by Sam's childhood memories of picking fresh produce to transform into traditional Italian meals with his father, the garden is the perfect starting point for fun gatherings.
Gardener Scott Jas works closely with the chefs to create the seasonal menu, making sure that nothing is wasted. During spring and summer, with an abundance of produce, the team also creates scrumptious chutneys, relishes and preserves ready to serve throughout the year.
From the field, it leads to the fork. That is, long meals with friends, sharing fresh platters and a bottle of Prosecco that brings people together.