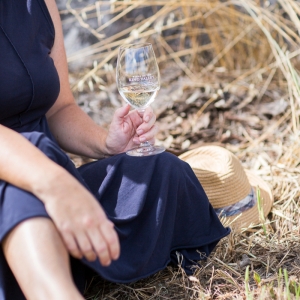 If you haven't tried Riesling for a while, it's time to give it another go.
Originating in France's Alsace region, in the valley of the Rhine River, Riesling has had a modern makeover. King Valley winemakers create a range of fresh, vibrant styles that stamp their mark on the good reputation that this versatile grape deserves.
Ross Gehrig, John Gehrig Wines
When I taste Riesling, I can taste the purity of the fruit.
It's a style that's evolved a lot in the vineyard. Years ago, Riesling was grown like a shaded bush vine but, because of its tight bunch structure, it often ended up with a lot of botrytis (rotten fruit). I remember noticing that as a kid and thinking, 'There's got to be a better way'.
These days we use a different canopy structure to let more air around the grapes, but not too much sun: sunburn can heat the acidity out of them.
Near the point of picking, I become an oversized crow, walking around the vineyard eating grapes all the time. I think about the flavours and the finished wine; if I can't taste the finished wine in those grapes then they're not ready to pick.
You can't play with Riesling too much in the winery, so it's only as good as the fruit you start with.
John Darling, Darling Estate
Riesling has been quite misunderstood over the years, and one of the big misconceptions is its ageing ability.
There are only a few white wines that can be aged well, and Riesling is the clear standout. A good Riesling can age beautifully, with freshness, plenty of fruit and acid and a lot of life.
As Ross says, a wine can really only be aged if the fruit was of great quality to start with. For Riesling, you also need the grapes' natural acid within the fruit. The rest is up to the winemaker to decide on the style of this very versatile grape: I've tried everything from bone-dry styles to sweeter wines that come from a late harvest and noble rot in the fruit, and all points in between.
Aged wines are now a rarity, but an aged Riesling is one that I love to drink.
Jo Pizzini, Chrismont
A cool climate, King Valley Riesling is brilliantly paired with seafood, fish and curry dishes.
In our restaurant, we find people love to talk about Riesling and the types of food they enjoy it with.
Whether it's fresh oysters, grilled spicy octopus, a fragrant fish curry or a baked whole snapper with herbs, Riesling is the perfect wine. The variety's brilliant zesty flavour, lively acidity, great length and the ability to age gracefully, is what makes it such an ideal match.
It's also a great variety to pair with most Asian cuisines. From clean flavours infused with chilli, a seafood laksa with a lot of heat, or the fragrant spices of a lovely curry, you can't go wrong when pairing Riesling as the variety holds up to strong flavours such as these really well.