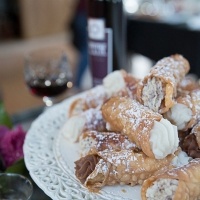 Brenda and Georgia learn a special skill from Nonna Josie - creating the King of Italian sweets, cannoli.
I have always considered myself a bit of a cannoli connoisseur.  You see, growing up with an Italian influence and living in the European heart of Melbourne it was part of our food culture  to experience all sorts of delicacies often being passed around at functions or offered as treats whilst doing the weekly shop in Brunswick.  The cannoli, however, was always was a stand-out favourite.
The cannoli is the quintessential Italian sweet that consists of a perfect marriage between a crisp rolled pastry shell piped with sweet filling of usually vanilla or chocolate custard.  Until now, I have only ever indulged in these delights, never thinking to try my hand at making them.  However, with the esteemed knowledge of Nonna Josie at Poliniti wines now offering cannoli making classes, things have changed for the better.
Georgia and I enjoy the stunning drive to Politini Winery situated in the foothills of Cheshunt. We greet our other cooking companions before donning our aprons and are offered a warm welcome from the Politini family, including Nonna Josie and her daughters.  A simple kitchen and a few ingredients are all you need and I am not surprised. Few Italian recipes are complicated and this one only requires your patience which Nonna Josie has in abundance as she encourages us to mix the dough to the right consistency before letting it cool in the fridge. Surprisingly small amounts of lemon rind and a shot of sherry are added to the pastry to give it a distinct flavour.   Our next task is to make the filling and Nonna Josie lets us in on more trade secrets about how to make the custard.  Whilst all this is going on small glasses of Politini muscat are handed around for us to enjoy.


Whilst we are cooking away friends drop in to see Nonna Josie and she is more than happy to see them.  The embraces she gives them leaves flour stained imprints on their backs but no one cares.  In the Italian culture, the more the merrier and that is certainly true here.
So, with our bellies fuelled by a little muscat, perhaps we began to loosen our inhibitions as Georgia and I relax and let Nonna Josie guide us through this journey of creating our cannoli.  Nonna Josie has been making cannoli for over 30 years, so watching her craft is inspiring as her hands naturally know what to do and are encouraged to follow.
We are taught with precision about how to roll out the dough, cut the circles and fry the shells.  The making of the custard is more a labour of love.  The participants and I all vouch we rarely make our own custard from scratch and when Nonna Josie informs us that after it is cooled it needs to be whisked we all gasp in awe. To be honest, I would have piped it straight into the shells and really botched it up, but this is why traditional know-how is key.
The custard is then whisked in which Nonna Josie adds a little muscat in for good measure and we begin to pipe the fillings into the shells.  A little dusting of icing sugar and before we know it we have made a traditional cannoli. Just when we thought it couldn't get any better, Nonna Josie comes out with a container of ricotta.  For the true Sicilian, the choice of filling is not custard but ricotta, which to be honest,  is my preference, so we whip up a batch of ricotta mixed with icing sugar, glacé fruits, chocolate shavings, and, you guessed it more muscat.  The result is exquisite.
To finish we sit with Nonna Josie and her daughters in the courtyard with a coffee celebrating our efforts and taking that first bite with delight. With the vineyards as a backdrop, the Italian atmosphere and flavours one could certainly feel they were in Italy.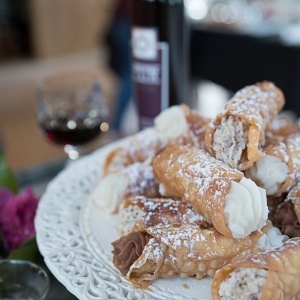 Activity: Cannoli making with Nonna Josie
Where: Politini Wines, Cheshunt
Cost: $85pp (bookings essential)
Perfect for: Those who love to eat, cook and immerse in the Italian culture.
How to book: politiniwines.com.au