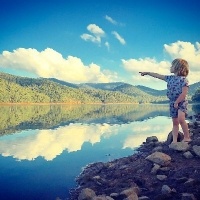 Lake William Hovell is a favourite among locals and visitors, and it's easy to see why. The lake sits among the mountains of the upper King River, with views and fun aplenty. Here are some of the activities to try your hand at.
Kayaking and paddle boarding
Easy paddling on a lake as smooth as glass and surrounded by mountainous scenery: it's a little slice of heaven.
Grab your kayak, canoe or stand-up paddle board, and get out on the water.
Want something more adventurous? Launch your vessel just past where the lake meets the King River, and ride some rapids.
Swimming
Swimming in the lake is the best way to cool down on a hot King Valley day and, because speedboats aren't allowed on the lake, it's nice and calm for kids to splash around.
Fishing
First, grab a fishing licence from the Cheshunt General Store.
Next, put up the 'Gone Fishing' sign, grab your rod and reel and head out on your canoe or tinny. (You need to travel under a speed of 8kph, on a boat with less than 10 horsepower.)
Then try your luck at catching a redfin, brown trout and rainbow trout.
Repeat as often as you need to feel relaxed (or catch lunch).
Picnics

With picnic tables and barbecue facilities at the ready, Lake William Hovell is the perfect spot to prepare the ultimate wine and cheese lunch.
Grab some delicious produce on your way to the lake, from the farm gates, local stores and cellar doors.
Walking
The lake is surrounded by walking tracks, so lace up your boots for either a gentle stroll or a long hike by the water.
Four-wheel-driving
From Lake William Hovell, let the four-wheel-drive tracks (strictly four-wheel-drive vehicles only) lead you up into the Alpine National Park, where there's a lifetime of exploring to be done.
By four-wheel-drive, you can climb mountains, find old high country huts, pitch a tent in your new favourite camping spot, and marvel at the ancient beauty of Paradise Falls.
Photographing
Keen photographers have a field day with the lake's reflections, colourful sunsets and mossy trees surrounding the walking tracks. There's no bad view; just wander around the lake to find your favourite outlook, and snap away.