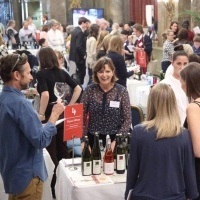 A few of the King Valley's fabulous women visited London for the wine experience of a lifetime.
The Australian Women in Wine Awards is known for gathering some of the industry's most inspiring ladies. This year they took the awards ceremony outside Australia for the first time, into the bright lights of London.
And, while we might be a little biased, we think they were very lucky to have a few of the King Valley's wine champions join them on the other side of the world.
Katrina Pizzini, from Pizzini Wines, says she made the trip to help promote Australian wine in the UK, and was thrilled to get more out of it than she bargained for. "It was terrific to meet so many amazing, strong women who are part of this industry in one way or another, whether in viticulture, winemaking, marketing and advertising, or other aspects of running a business."
The event gave Katrina several opportunities to meet other prominent Australian women in wine at a number of beautiful locations. "We had a cocktail party with Nicola Downer at the Australian High Commissioner's residence, a photo shoot at the Royal Albert Hall, a public wine tasting with the Fabulous Ladies' Wine Society, and a wine tasting event with journalists and people within the industry," she says.
This industry-based tasting event, held at Australia House, opened up Australian wines and winemakers' stories to the UK trade and media—and they soaked up the King Valley's innovative essence.
Symphonia Fine Wines' winemaker Lilian Carter says, "At the tasting, we showed our 2008 Petit Manseng alongside our 2013 Petit Manseng, and the feedback was great. The sommeliers and other tasters were sending their friends over; they really enjoyed this fascinating variety."
Lilian, who travelled over with the winery's co-founder, Suzanne Evans, and marketer, Sophie Evans, took the opportunity to make the most of being away. "While we were there, we also managed to secure UK distribution, so it was really successful for Symphonia."
Katrina adds, "It blew me away to be among so many women who are doing wonderful things for the wine industry."