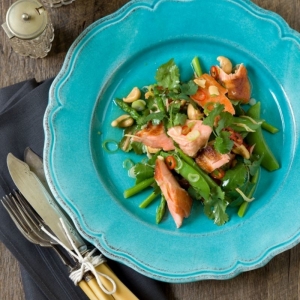 On a warm day spent with friends and family, you'll want to keep the food simple and flavoursome. This is a meal that'll impress your guests, especially when it's served with the perfect King Valley wine.
Thai Salad of Ocean Trout
Sauce
30g palm sugar, roughly chopped
75ml lime juice (2-3 limes)
15g fresh ginger, shredded
1 tablespoon fish sauce
100g sugar snap peas
200g fresh asparagus, sliced in three
3 tablespoons cornflour
2 tablespoons olive oil
1kg ocean trout fillets, bones removed and fatty bits trimmed away
1 small cucumber, thinly sliced
½ cup coriander leaves, washed and stems removed
3 spring onions, thinly sliced
½ small red chilli, thinly sliced and seeds discarded
½ cup roasted and lightly salted cashews
For the sauce, place the palm sugar into a bowl with the lime juice and ginger. Let the mixture sit for a couple of hours, stirring occasionally to dissolve the sugar—the ginger will take on a lovely pink hue. Add the fish sauce and set aside.
Blanch the peas and asparagus in boiling water for 1-2 minutes. They should remain bright green and al dente.
Heat a pan to medium, dust the trout in cornflour and gently fry, skin side down, for 4 minutes. Turn and cook a further 1 minute. Don't overdo it: you want the trout to remain bright pink inside.
Remove the fish from the pan and break roughly into large pieces.
In a serving dish, combine the vegetables, herbs, spices, nuts and fish.
Warm the sauce slightly, then pour it over the ingredients. Toss the salad lightly and serve.
Perfect Match
This dish's perfect match is Pizzini Riesling. The wine's pungent citrus and lime characters complement the salad's sauce, and its clean, dry finish works well with the richness of ocean trout.
The dish also goes well with a full-bodied Fiano or Pinot Grigio with lovely, fresh fruit flavours.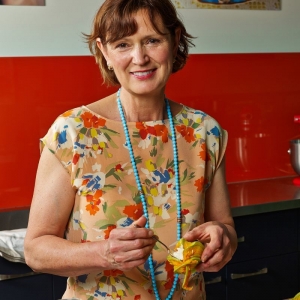 Activity: A Tavola! Cooking School
Where: Pizzini Wines, Whitfield
Cost: From $145 per person
Perfect for: Those who love to eat, cook and immerse in the Italian culture.
How to book: www.pizzini.com.au