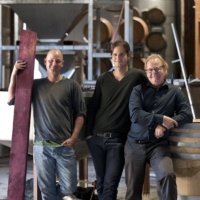 Growing up on the vineyards has inspired these three winemakers to pave their own path.
"Winemaking was my ticket to stay on the farm."
When Joel Pizzini stood on tiptoes, peeking over the fence at his grandfather brewing a batch of homemade wine, he never imagined he'd one day be doing the same thing – but on a much larger scale.
Growing up around the family tobacco and grape farms, all he knew was that he wanted to stay on the land. "I loved growing up on the farm," Joel recalls. "I loved the challenge of not doing the same things day in day out. My winemaking ticket was my ticket to stay and work on the farm."
The Pizzini family branched out into making their own wines when Joel was in his late teens, so he's been involved at every step. He jokes that this is pretty late in King Valley terms: "I was a late bloomer when it comes to wine!" Still, that hasn't held him back; in 2016 Joel was a finalist in Gourmet Traveller WINE's Young Winemaker of the Year awards.
Joel has his sights set on doing things a little differently now. "I'm doing a lot of soil mapping and being more strategic about what we plant, where we plant and how we do things," he says.
Whether he's getting his hands dirty on the farm or making the next vintage of top-notch wines, Joel feels like he's part of building a legacy for the generations to come. "That comes with being in an Italian family," he says. "There's a strong sense of family and passing something down from generation to generation."
"It's time to take the family business to the next level."
Glen Merkel has fond memories of handpicking grapes alongside his father and grandfather on the family vineyard, atop the picturesque Mt Bellevue. "I remember them setting up the vineyard," he recalls, "and I'd get paid about $4 an hour for working during the school holidays."
Glen is the first in his family to turn the heirloom business from grape growing to winemaking. "I studied winemaking and then came home and decided to give that side of the business a go," he says. "It was always in me, although I still believe that 90% of the winemaking happens in the vineyard."
Putting his own mark on the family business has meant taking on a second vineyard in Myrrhee and setting up the Moyhu Hotel. "My wife and I wanted a cellar door to move the business forward, but the vineyards are too isolated and off the beaten track," says Glen. "The Moyhu Hotel became our home and cellar door which has been great for networking and exposure. And now that we've got some branding and a following, it's time to take that to the next level."
It's all part of being a new generation of King Valley wine pioneers. "I'm always looking for the next opportunity to make something successful," Glen says. "I'm enjoying watching the growth of the King Valley; it's an exciting place with lots of great people doing great things."
"I'm the first female winemaker in my family."
The fourth generation of Brown Brothers winemakers is smashing stereotypes. "I'm the first female from the Brown family to be a winemaker," says Katherine Brown. "I think my Nan would be proud."
Making wine is a lifestyle that Katherine always felt a calling towards. "When I was a kid I used to get the grapes from around the house, grab a bit of yeast from the winery and try to make my own wine," she laughs. "I followed a business and marketing path straight after school and it wasn't until I'd worked in that side of things for about four years that I had a craving to be back at the winery and get hands on."
Katherine feels driven by the inimitable winemaking history of her family. She says, "Working on the Milawa site, I get to walk in the same footsteps as my grandfather, grandmother and great- grandfather. It's a very di erent feeling to working in an o ce that has no meaning and no stories. The trees and the vines here must have some stories to tell."
There's also a responsibility to her family. "I feel more like a gatekeeper than a business owner," Katherine says. "If you're the first generation you've put all your hard work into growing the business from nothing, which is a really different feeling from being a caretaker who makes sure that the fifth, sixth and seventh generations can be part of this as well."
While Katherine's father, Ross, shares his own experiences with her, she says he feels safe in the hands of her generation: "We have one eye on tradition and heritage and the other eye on the future."