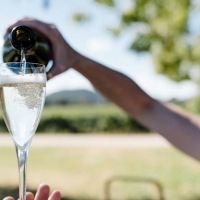 It's the time of year that new life abounds, and in the King Valley this means new wine releases and new restaurant menu offerings. Here are this year's spring sensations.
Mountain View Hotel: new Italian-inspired menu
This season's menu at the Mountain View Hotel is something to write home about.
"Our new head chef, Lachy Cashman, loves using fresh produce, foraging and making his own cured meats," says Natalie Pizzini, "and he's put together an Italian-style food experience."
The menu is filled with pub classics that carry an inspired Italian twist, including a chargrilled sirloin steak with Sangiovese jus, and the house-crumbed chicken parmigiana with prosciutto, passata and melted mozzarella.
And it can all be enjoyed with a glass of Pizzini's LANA food-friendly wine, in the garden that dates back over 100 years.
The Mountain View Hotel is open for lunch and dinner seven days a week.
Symphonia Fine Wines – Prosecco for Spring
Now that the warmer months are hitting, both the vines and the visitors are coming out of hibernation, ready for a Prosecco picnic.
Winemaker Lilian Carter says Symphonia's sparkling hits all the right notes for springtime drinking. "Our Prosecco is crisp and juicy, with citrus and floral aromas," she says. "It's very fresh and lively, which makes it great drinking for that feeling of coming alive for spring."
Chrismont Wines: a fresh Spring menu
Chrismont's menu always focuses on the fresh produce available from local farmers. So what's on the menu for spring?
Zucchini flowers, stuffed with ricotta and mint; asparagus tossed in a leafy green salad, garnished with local olive oil and fresh herbs; and an orange and fennel salad, with olive oil and white vinaigrette dressing.
The latter is an Italian favourite. "It's a traditional southern Italian salad; we'd eat it with fresh bread in the springtime as a meal in itself," laughs Jo Pizzini.
Match your fresh meal with a crisp La Zona Pinot Grigio, the zesty new La Zona Fiano, or whichever is your favourite Chrismont vino.
Merkel Wines: 2016 Gewurztraminer release
Winemaker Glen Merkel has crafted a new Gewurztraminer (pronounced gev-orts tram-een-er) that's bold and generous.
This French variety is known for being an easy drinking white, with lots of body and strong aromatics. Merkel says their Gewurztraminer is a special creation: "It has clean, very floral tastes as a result of being grown in the rich, red volcanic soil of Mt Bellevue (600 metres above sea level)."
"This wine goes particularly well with Asian-influenced food."
Brown Brothers: new release Prosecco and Tempranillo
When cellar door supervisor Ernie Menichelli looks at the new range of wines being released by Brown Brothers this spring and summer, he turns to two favourites:
"We have a new Prosecco Rosé. Prosecco is traditionally reliant on flavours reminiscent of crispy green apples; the pink version still has apple flavours but a softer version, like a Pink Lady," Ernie describes.
"One of my favourite red wines in the warmer months is Tempranillo (the 2016 vintage is newly released)," says Ernie. "It's perfect with that Friday night, after-work vibe, with pizza or tapas style offerings."
King River Brewing – the newest King Valley venue
Husband and wife team, Nathan and Brianna Munt, have rejuvenated the family tobacco farm into King River Brewing. The core range includes Kolsch ("we call it the elbow bender, because it's so easy to drink you just keep bending your elbow," says Nathan), Altbier, IPA and Hefeweizen.
There are a couple of new additions on tap for spring: Belgian Pale Ale, which is made from local hops and includes flavours of clove and tropical fruits, and an effervescent Saison.
"You'll find my wife and me on the taps; I'm always talking to anyone willing to listen about the depth of creativity that's involved in making beer," Nathan laughs.
"I'm really following a passion here."