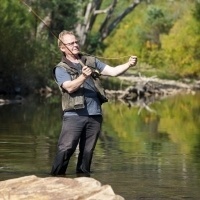 As well as being home to some of Australia's prime viticultural land, the King Valley also boasts some of the country's best freshwater fishing.
Whether you're a keen angler or just want to cast a line with the kids, the King Valley's pristine mountain streams, rivers and lakes are a boon for fishermen, offering abundant brown and rainbow trout, together with Murray cod, blackfish and redfin.
Local vigneron Fred Pizzini has been fishing in the King Valley since he was a boy. "I love fishing, especially in the upper reaches of the King River. In certain stretches there is a really good supply of brown trout, which is always a fantastic fish to catch."
Though he admits that trout can sometimes be more of a challenge to hook, Murray cod, he says, is a fairly easy fish to aim for if you're just starting out. "In the lower reaches of the river there's a nice supply of Murray cod, and I think they're building up in numbers too."
If you're not sure where to start, why not take a guided fly fishing tour – they will have invaluable local knowledge when it comes to choosing the best spots to cast a fly and can cater for everyone from novices to experts.
Fred says that he often releases the fish he's caught, "but I might take the odd fish home to barbecue, served very simply with a bit of olive oil or butter. I wrap them in wet newspaper, perhaps with some herbs, and put them on the coals for a few minutes".
Of course, the King Valley offers a number of delicious wines that will go perfectly with trout. "A local pinot grigio or arneis – a soft, delicate style of wine to match the delicate fish is just beautiful," says Fred.
For the best chance of bringing home dinner yourself, Fred recommends rising before dawn, "Particularly in summer it's best to start very early in the morning, at daybreak, or at dusk, when the air temperature cools down and there's a bit of movement on the surface of the water.
"But", he adds, "like any fishing, probably 80 per cent of it is just being on the water, enjoying the environment and if you catch a fish, well that's a bonus!"
For more information on fishing and the great outdoors, go to www.visitkingvalley.com.au