48 hours in the King Valley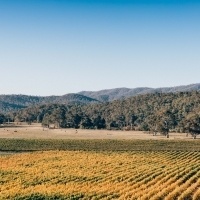 'When it comes to Italian varietals, I'm like a moth to a flame and the King Valley is my favourite region to burn two days.'
By Charley May for www.vinomofo.com.au
Just 3.5 hours from Melbourne, I'm poppin' prosecco, learning how to cook like nonna and sippin' sangiovese over a perfect sunset before camping under a billion stars. I've been going to the King Valley for years and autumn is my favourite time to visit. The colours of the vines are breathtaking, the warmth of the people comforting and the serenity of the place is soul charging.
A little history
The King Valley was first settled by Europeans in 1880s, with tobacco being the main agricultural crop of the area. After the Second World War, many Italian migrants moved into the region seeking their fortune in cigarettes. However, things went up in smoke in 1970s when the tobacco industry fell apart and they decided to put their money on grapes instead. And it's a move that's paid off well because they're crushing it when it comes to Italian wines.
Prosecco brunch or afternoon bocce at Dal Zotto
Kick off midday with some fizz from the dudes who pioneered prosecco in Australia. Old boy Otto Dal Zotto was born in Valdobbiadene, the spiritual home of this sparkling style, and wanted to bring the taste of north east Italy with him. There are three proseccos to try and all are worth raising a toast to at brunch.
Dal Zotto also have a bocce court shaded by beautiful old gum trees that is perfect for lazy afternoon hangs. I always play better with a big glass of red in hand and there's an inspiring selection in the cellar door, so it's game on.
Cook like nonna at Pizzini
If you want to learn how to make silky fresh pasta, perfect Italian puds, or even cook up a four course feast for your crew, then get your apron on. That's after you've admired Pizzini's heritage listed tobacco kilns and sampled their complex and savoury reds. These guys take sangiovese, barbera and nebbiolo to the next level; beware you'll leave with a smaller wallet and bigger cellar. Let your belt out one notch 'cause you'll be well fed and watered here.
Inspiring views at Chrismont
These guys are headliners when it comes to autumnal colours, inspiring views and an unusual little sweetie (among other brilliant wines). Step out onto the terrace of their newly renovated cellar door and get ready to drink in a sea of red and gold that'll make you an Instagram superstar. Then grab a fragolino, it's like strawberries and cream in a glass and the perfect end to a visual feast.
Seasonal celebrations
Weekend Fit for a King, 11–12 June 2016.
Grab your gum boots and wooly pully, 'cause this soiree is the perfect way to welcome in winter. It sees cellar doors crank up the heating and host special events celebrating warm Italian reds, crackling fires and delicious comfort food.
La Dolce Vita Wine and Food Festival, 19–20 November 2016.
Pop the prosecco and put on your sunnies, this spring shindig is all about soaking up the sun and celebrating the 'sweet life' in the Valley. It's a time when wineries embrace wine lovers with open arms, long lunches and their new release vinos.
Read Charley May's strong argument for Why You Need to Go to King Valley and view exclusive video at www.vinomofo.com.au.