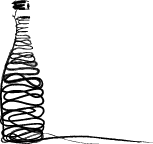 Complimentary Tasting
Start your tasting of the diverse range of wines on offer with a refreshing Chrismont Prosecco at the tasting counter or on the expansive balcony overlooking the King Valley.
Available daily.
Prosecco Masterclass
Take the Prosecco Masterclass with Chrismont winemaker Warren Proft. Showcasing the full range of Prosecco styles the sessions include wines, tasting notes and wine production information.
Bookings required.
$15 per person
Meet the Maker
Walk the vineyard with the winemaker and take a guided tour of the winery for an insight into Chrismont's prosecco production process. Savour a traditional Venetian tasting plate with a King Valley twist.
Available from 2pm on the last Friday of each month, bookings required.
$45 per person
Stay, Relax, Enjoy!
Accommodation at Chrismont Guesthouse including a chilled bottle of Chrismont La Zona Prosecco, plus an assortment of antipasti featuring local produce.
From $220 per couple